We thought we would share with you a few of our latest dental website design work for you to look at today. We hope that you like them as much as we do.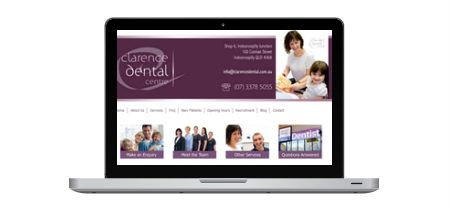 Clarence Dental Website Design
Clarence Dental Centre is located in the sunny Brisbane suburb of Indooroopilly. Wellsites created their new, easily-navigated website design, with applicable Call-to Action buttons. The Clarence Dental logo was also designed by the team, helping to re-establish the practice with their new name and location.
This is the response we received from Donna Gebbet, the practice manager at Clarence Dental:
"I could not be happier with the team at Wellsites! From the first consultation with Carolyn, right through to delivery of our new branding and website, I found all involved to be highly professional, knowledgeable, helpful and friendly."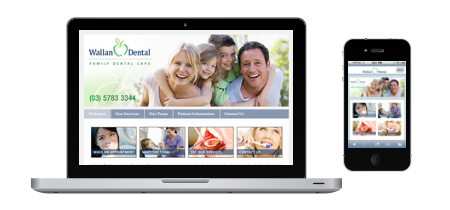 Wallan Dental Website Design
Wallan Dental is another of our latest dental clients, located in Wallan, Victoria. The website was given a fresh, simple and clear design. The new logo, designed by Wellsites, also portrays this image. Wallan Dental were also one of our first clients to integrate the mobile website design into their online marketing strategy, so all patients (whether existing or potential) can gain access 'on-the-go'. (Read more about the overwhelming benefits of mobile website design here.)
The outcome?
"I am thrilled with my website and cannot speak more highly of all of the staff I have worked with at Wellsites. I was so impressed with their designer that I had her revamp my logo and practice branding and am now using them to set up our next website. I value integrity in my business relationships and am delighted to have this association with Wellsites." – Anna Reid
Greenwood Dental Website Design
Greenwood Dental is one of Sydney's largest dental practices, located in North Sydney. An updated, professional website design was provided to showcase their professional image. This included copywriting services, and managing Search Engine Optimisation for the website. Greenwood Dental also required professional photography services from Wellsites, including photos of the team, the reception / waiting area, signage and more. Greenwood Dental has the ability to stand out from competitors who predominantly use dull stock photos. (Read more about our photography services here.)
Dental Website Design
Wellsites offers flexible website design solutions to all dental / medical / healthcare practices.
An effective dental website design will help:
Customers to find your business (at any time of any day)
Your practice to stay up to date with the latest marketing trends
Share news and other important information with patients
Create a professional image for your practice.
Contact us today to find out how we can improve your dental practice 's website.