The Lowdown on SEO – why it so vital for your dental or medical website design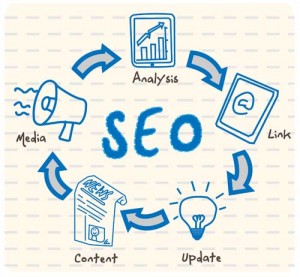 The most important aspect of Search Engine Optimization is that it makes your website easier for users and search engines to find. Despite the fact that search engines are becoming more sophisticated, they still cannot understand a website the same way a human can. This is why SEO is required to assist these search engines to understand what every web page is about and how it will assist a user. In essence, Search Engine Optimisation should be included in your dental or medical website design because it provides clues to the search engines to help them understand what your website is all about.
3 reasons why you should incorporate SEO into your dental or medical website design:
1. Improves visibility
SEO contributes towards increasing your visibility online and this drives more traffic to your webpage. If you already have an appealing dental or medical website design, you might expect people to be attracted to it simply because it exists and you advertise it. So why would a person be unable to locate your website?
·      Your advertising doesn't necessarily reach everyone. This means your patients may not know about your website, or potential patients either. It isn't easy for them to find your practice online unless the website uses Search Engine Optimisation.
       2. Improves ranking
When creating content for your website you should use business-specific keywords in order for your page to show up when a search is conducted. When most people are browsing the web looking for information they just enter a few words in the search box, and some related content shows up. If you do not use SEO to optimize your ranking, a rival practice will. And this will hurt your chances of getting new customers. Given that many people turn to search engines when they need questions answered, you need to get on board and bring your content closer to them.
3. E-media offers a better method of advertising
On Google alone, about 250 million searches are completed on a daily basis. What if a percentage of these people are searching for something like 'best dental or medical practice'? If your website content is optimized using this keyword, chances are that many people will land on your page. The number of people looking for solutions online is likely to increase in the future due to increased internet accessibility, and you should take advantage of this. As more businesses switch from print media to e-media to better their businesses, you need to join them and keep up.
Website marketing strategies work for you 24 hours a day as opposed to other forms of media which are time sensitive. In order to attract a larger clientele, you need to create an aesthetically appealing dental or medical website design and use SEO to do all the advertising work for you.  It also puts your practice right in front of the target market that is actively seeking what you have to offer.
Useful statistics
The higher your website ranks on the search engine, the more prospective clients will visit your website since 87% of people do not go past the first page of search engine results. About 91% of all internet users rely on search engines to get what they want. This means that if well utilized, SEO can rake in a lot of potential clients by taking them straight to your website. To make matters more difficult, more than 3.5 billion websites are competing for the top rank.
Want to know more?
Contact Wellsites, and we would love to give you further SEO advice.